FAVORITE READS OF 2018
12:07 PM
One of my New Year's Resolutions for 2018 was to read more for leisure. I've always been an avid reader since I was little, but during my years of college, textbooks and required reading assignments ate into most of my time for pleasure reading. Now that I'm out and waiting to hear back from medical schools, reading new books has kept me occupied and I didn't realize how much I missed getting lost in a book!
In today's post, I'm sharing a few of the new books I read this year so far! When I was younger, I was really into Young Adult novels (especially paranormal romances... I'm not ashamed to admit I love Twilight when I was 15), but now that I'm older, my tastes have changed (thank goodness) and I've really fallen for the Thriller/Mystery genre, but I still love a good Contemporary Romance for a quick read!
My Favorite Reads of 2018:
The Wife Between Us (2018) - Thriller/ Mystery
Synopsis:
A novel of suspense that explores the complexities of marriage and the dangerous truths we ignore in the name of love.
When you read this book, you will make many assumptions.
You will assume you are reading about a jealous wife and her obsession with her replacement.
You will assume you are reading about a woman about to enter a new marriage with the man she loves.
You will assume the first wife was a disaster and that the husband was well rid of her.
You will assume you know the motives, the history, the anatomy of the relationships.
Assume nothing.
If you read Gone Girl or The Girl on the Train (or watched the films), and loved a story that keeps you on your toes, this is the book for you! Throughout the book, I was never really sure of the story I thought I knew...this thriller kept me guessing at every page! And it was an NY best-seller and a Major Motion Picture deal is in talks!

The Hate U Give (2017) - Young Adult/Activism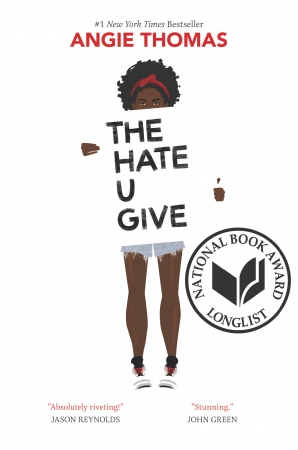 Synopsis:
Sixteen-year-old Starr Carter moves between two worlds: the poor neighborhood where she lives and the fancy suburban prep school she attends. The uneasy balance between these worlds is shattered when Starr witnesses the fatal shooting of her childhood best friend Khalil at the hands of a police officer. Khalil was unarmed.
Soon afterward, his death is a national headline. Some are calling him a thug, maybe even a drug dealer and a gangbanger. Protesters are taking to the streets in Khalil's name. Some cops and the local drug lord try to intimidate Starr and her family. What everyone wants to know is: what really went down that night? And the only person alive who can answer that is Starr.
But what Starr does—or does not—say could upend her community. It could also endanger her life.
As a young black woman living in today's world, this book really resonated with me. Like Starr, I grew in a neighborhood where a lot of my friends and neighborhood kids didn't graduate high school, and in elementary school, my parents transferred me from my neighborhood school to a school that was predominately white, so I understood her struggle to balance her two worlds. I was proud to read a book about a black girl written by a black woman, but you don't have to be black to enjoy and understand the message of Starr's story. It is a powerful and honest reflection of what's happening in our Country and a great read for ANY and EVERY one. And the movie, with Amandla Stenberg as Starr, is already shooting, so I expect a 2019 release!
Emergency Contact (2018)- Young Adult/Contemporary Romance
Synopsis:
F

or Penny Lee high school was a total nonevent. Her friends were okay, her grades were fine, and while she somehow managed to land a boyfriend, he doesn't actually know anything about her. When Penny heads to college in Austin, Texas, to learn how to become a writer, it's seventy-nine miles and a zillion light years away from everything she can't wait to leave behind.
Sam's stuck. Literally, figuratively, emotionally, financially. He works at a café and sleeps there too, on a mattress on the floor of an empty storage room upstairs. He knows that this is the god-awful chapter of his life that will serve as inspiration for when he's a famous movie director but right this second the seventeen bucks in his checking account and his dying laptop are really testing him.
When Sam and Penny cross paths it's less meet-cute and more a collision of unbearable awkwardness. Still, they swap numbers and stay in touch—via text—and soon become digitally inseparable, sharing their deepest anxieties and secret dreams without the humiliating weirdness of having to
see
each other.
It was a slow start for this book, but once I really took the time to get into, boy did I! I fell in love with Sam and Penny, HARD! This isn't your typical young adult romance that lacks substance and depth, which is why I think it was so easy for both the characters to connect and me as the reader to connect as well! This is one of the best YA novels I read in a while, that I was a little sad for Sam and Penny's story to end.
The Woman in the Window (2018)- Thriller/ Mystery
Synopsis:
It isn't paranoia if it's really happening . . .
Anna Fox lives alone—a recluse in her New York City home, unable to venture outside. She spends her day drinking wine (maybe too much), watching old movies, recalling happier times . . . and spying on her neighbors.
Then the Russells move into the house across the way: a father, a mother, their teenage son. The perfect family. But when Anna, gazing out her window one night, sees something she shouldn't, her world begins to crumble—and its shocking secrets are laid bare.
What is real? What is imagined? Who is in danger? Who is in control? In this diabolically gripping thriller, no one—and nothing—is what it seems.
This book, Whoa! Like I said before I love a thriller/mystery novel and this book was that! It even made my head spin! I will admit, I was able to guess the ending by the time I got to the final chapter but the majority of the story was a mystery. It was also an NY bestseller and Amy Adams has even signed on to play Dr. Anna Fox for the movie!